Weekend Warrior Kiteboarding Camp
Our kiteboarding camps run January through April on the third weekend of the month. Camps include an East Coast Kiteboarding t-shirt, DVD, safety information packet, and two free issues of Kiteboarding magazine. All kiteboarding gear and wet suits are included.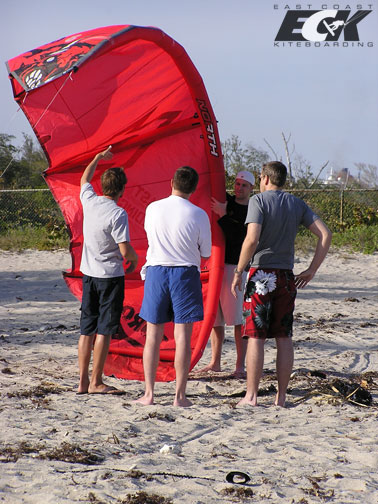 Overview:
This two-day Kiteboarding camp is geared toward beginners who want to learn everything there is to know about kiting over a two-day period. The kitesurfing camp will have a minimum of two students and a maximum of six, which will be broken down into groups of two students to one instructor. All kiteboarding instruction will be done on wide sandy South Florida beaches then continue in the water on shallow sandbars.
The Plan:
We will meet each day at 8:00AM and break at 11:00AM then continue later that day at 3:00PM and finish at 5:00PM. You will learn everything there is to know about kiteboarding / kitesurfing including safety systems, kiteboarding jargon, gear selection, how to rig your kite, tuning your kite, launching assisted and self launching, flying your kite, re-launching your kite, landing assisted and self landing. The next day we will continue with the focus on getting you up on the board and riding. If this is your first experience with kiteboarding, no need to worry all kiteboarding gear is included. However, if you have a kite or board we recommend you bring it so we can help you tune it and make sure its set up properly.
Accommodations:
If needed, East Coast Kiteboarding School can arrange your accommodations. South Florida has a wide array of places to stay, from budget hotel rooms to five star penthouses.
Things to bring:
Sun block
Any Kiteboarding gear you may have
Rash guard or t-shirt to wear in the water
Camp Cost: $750